Free Wifi at Istanbul Airports – Sabiha Gokcen Airport (SAW) Wifi Password – 2022
Free Wifi at Istanbul Airports in 2022
In this post, you will find information about free wifi at Istanbul airports including Istanbul New Airport (IST) & Sabiha Gokcen airport (SAW)
Let's say you want to meet with your friends and you need free wifi at Istanbul airports and internet connection. Or the hotel sent a driver to pick you up and you need to inform them that you have arrived. And you don't want to pay expensive roaming bills. Or you are leaving the country and want to check your emails one more time before the long international flight and you urgently need free wi-fi at the airport.
Is There Free Wifi at Istanbul Airports?
Here is the list of free wifi at Istanbul Airports passwords and Sabiha Gokcen Airport wifi passwords in common areas. And completely free.
Istanbul Airport Free Wifi Service
How Do I Get Free Wifi at Istanbul Airport?
Free wifi at Istanbul Airport (IST) is provided by Turk Telekom. You need to find wifi access points (kiosks) at Istanbul Airport.
How Do I Connect to Istanbul Airport Wifi?
You can connect & access Turk Telekom Free wifi service in 2 different ways.
Connecting to Free wifi at Istanbul Airport by Passport
-Slide your passport on the left side of the free wifi-kiosk and it will provide you a code.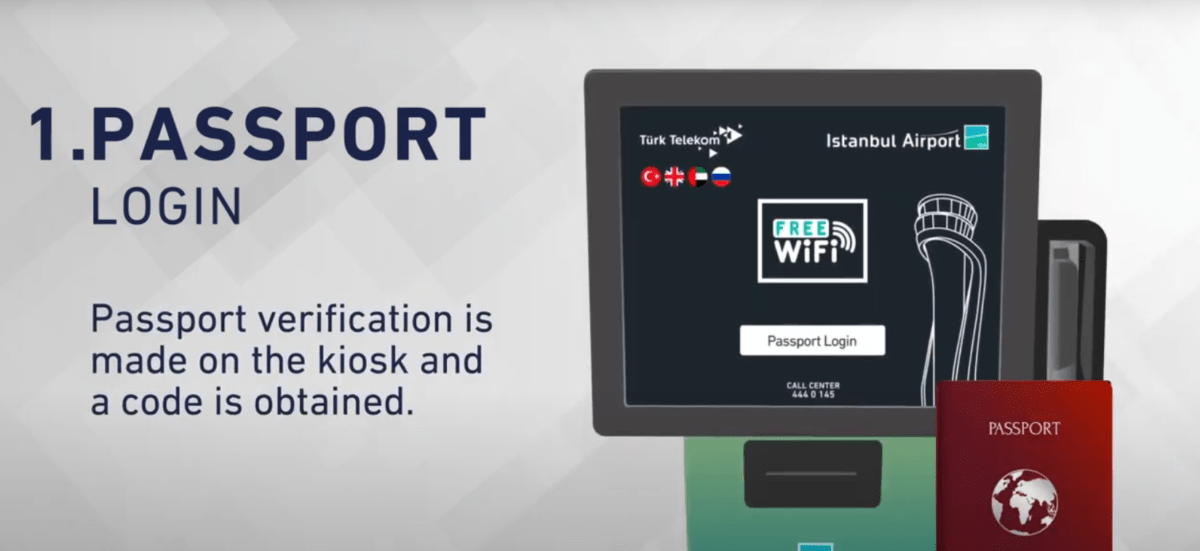 -Save your free wifi connection password
-Go to your wifi settings and click on Istanbul Airport Turk Telekom Free
-Click on Passport Login and enter the password
Connecting to Free wifi at Istanbul Airport by Mobile Number
-Chose mobile login this time.
-Enter your country code.
-Enter the code that you received by SMS & press on continue.
-You can use now Free Wifi at Istanbul Airport
Please note that Free wifi at Istanbul airport is limited to 1 hour only.
Sabiha Gokcen Wifi Passwords
FREE WIFI AT SABIHA GOKCEN TURKISH AIRLINES LOUNGE (CIP)
Network name: thy
Password: investinTurkey
BY GATE 201
Network name: VIPInternet
Password: There is no password. Direct connection
FREE WIRELESS INTERNET AVAILABLE AT SAW ( SABİHA GOKCEN) AIRPORT
Getting connected to free wifi internet in Sabiha Gokcen Airport is now easy and fast. There is a service called " WiSpotter Wireless Internet Access" which allows you to access a wireless connection for a fixed price(first 30 minutes free). With the WiSpotter service, you can access the internet at certain service points with your laptop or WiFi-enabled mobile phone. You can use this service from one of 8 kiosks set up around the terminal departures level both domestic and international land and air sides.
If you are going to visit Istanbul soon, note these Istanbul airport wifi passwords and Sabiha Gokcen wifi passwords somewhere.