A to Z, Istanbul City Guide 2021 ● Turkey Travel Journal
ISTANBUL CITY GUIDE
Istanbul city Guide. Istanbul  (formerly called Constantinople in Byzantium ) is the largest city in Turkey with a population of 20 million people, the main port and trade and economic center, and the capital of all the empires in which it was located.
You can spend hours talking about Istanbul , and anyone who makes such a description of the city does not skimp on enthusiastic epithets. As once all roads led to Rome, so today all roads from Asia Minor and the southern black sea region lead to Istanbul. You can get to the city by bus from Greece, Georgia or Iran, while watching the magnificent views around almost the entire country on the way.
Hundreds of planes from all over the world arrive at Istanbul airports every day. Not only Turkish Airlines, which send tourists even to Australia and Argentina, but also many low-cost airlines that make travel very inexpensive. In Istanbul city, the routes of a huge number of cruise liners and regular ferries converge: here you can make a sea voyage from Egypt, Israel, Greece, Ukraine and Russia.
All year round, a large number of tours are organized to Istanbul - there are enough attractions to spend 4-5 or even more days in the city, bright and eventful with excursions. And if you have a free weekend-feel free to go here: the city has something to surprise and please you.
On top of that, Istanbul is a stunning national, geographical, religious and cultural fusion. There is probably no equivalent to it in the whole world.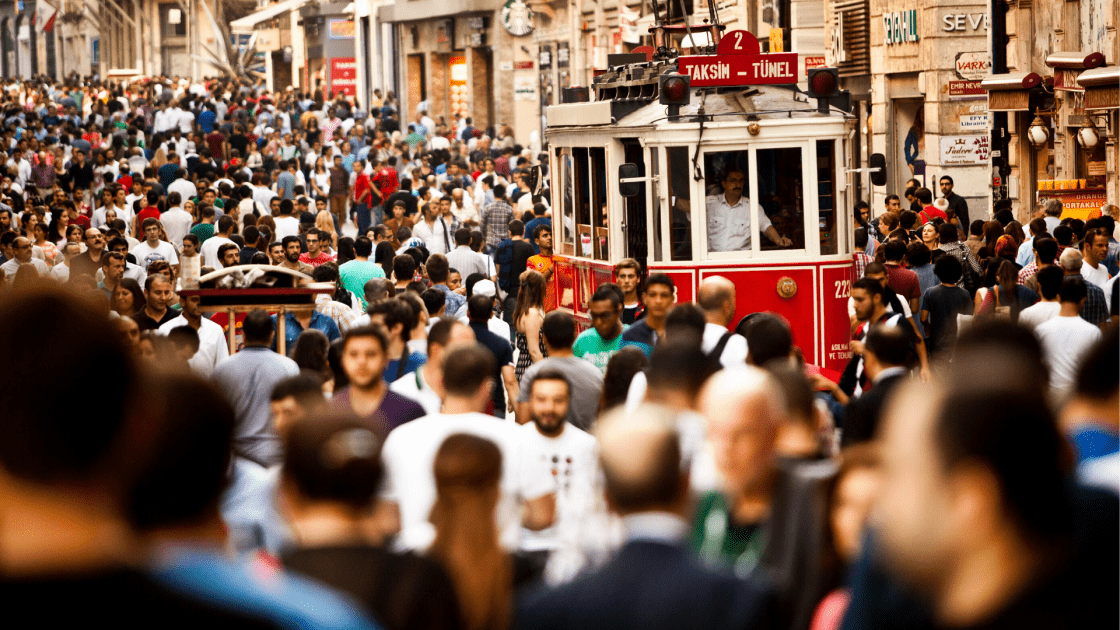 HOW TO GET TO ISTANBUL
You can get there by land, ferry, or by air. There are 2 airports near Istanbul: Istanbul airport (IST) and Sabiha Gokcen airport (SAW) .
Direct Flights to Istanbul
There is direct flight almost from every corner of the world. Popular airlines that fly to Istanbul city  on regular flights: Turkish Airlines, Pegasus Airlines,British Airlines, Lufthansa, Qatar Airlines, Emirates and hundreds more.
You can also get to Istanbul by numerous connecting flights from many cities .
Cheap Flights to Istanbul
You can buy flights to Turkey as profitably as possible with the help of special flight search engines Skyscanner and Aviasales, which collect data from all airlines. Use the form below to specify the dates and city of departure.
1. Istanbul International Airport (IST)
Istanbul airport is the largest airport in Istanbul, which replaced the overloaded and now closed Ataturk airport. It is located in the Arnavutkoy district on the European side of Istanbul province.
At the moment, you can only get there by Havaist buses and taxis, and the metro line is expected to be completed only by 2022. We have described in detail about how to get to Sultanahmet and the Fatih area, as well as Taksim, Sisli, Beyoglu, Besiktas.
If you plan to arrange a private airport transfer, you can check the Istanbul airport transfer prices below.
2. Sabiha Gokcen International Airport (SAW).
Sabiha Gokcen airport is located in the Asian part of Istanbul, 35 km from the center. Cheap access to Kadikoy and Taksim is possible by Havabus buses, as well as regular city buses. A taxi service is available in the arrival area if you haven't arranged a private transfer in advance.
Excursions from the Southern Regions of Turkey
During the high summer season, daily one - and two-day excursions with flights are organized from the regions of Turkey:
Antalya city tour,
Alanya city tour,
Belek city tour,
Kemer city tour,
side city tour.
TRANSPORT
Transport in Istanbul is very well developed, at your service: metro, buses, trams, dolmuş (minibuses), taxi, Marmaray train, ferries and funiculars. Most types of transport in the city use the single electronic card Istanbulkart. In comparison with one-time tickets, it allows you to significantly save on travel. Each subsequent use within 2 hours reduces the standard fare from 3.5 to 1.2 Turkish Lira.
Below we will briefly describe transport.
1. Buses and Dolmuş.
The network of bus routes in Istanbul is well developed, it is easy to reach anywhere in the city.
Dolmuş (minibuses) are a good alternative to buses, they go to various popular destinations. They are a little more expensive, go more often and faster. The cost of travel varies, payment is made in cash.
2. Metrobus.
A Metrobus is a cross between a bus and a subway. Flights are operated by regular buses, but they avoid Istanbul traffic jams, as they have their own dedicated lane on the highway. The route connects the Asian and European parts.
3. Metro, tram and funicular.
Metro in Istanbul is a very popular form of transport. The route network consists of 6 branches with 89 stations, and great efforts are being made to expand them. There are plans to bring the metro to Istanbul Airport (2021) and Sabiha Gokcen Airport (2021).
Currently, the metro consists of 6 lines: M1, M2, M3, and M6 are located in the European part; M4 and M5 are located in the Asian part.
There are two types of trams: tourist trams that have historical cars and ordinary citytrams . Some stations are underground.
Funiculars have three lines: Karakoy-Beyoglu, Kabataş-Taksim, Seyrantepe-Vadistanbul.
4. Marmaray.
Marmaray is a commuter train line used as public transport. Similar functionality to the metro and tram. The main advantage for passengers is the convenient ability to move between the European and Asian parts of Istanbul.
n March 2019, the line was fully launched. Trains run from Halkalı station in the European part of the city to Gebze station in the Asian part of Istanbul via the Marmaray tunnel under the Bosphorus Strait.
On Marmaray, it is most convenient to get to Sultanahmet from Sabiha airport on a budget basis.
5. Water Transport.
Istanbul has a well-developed water transport system, the main one being ferries between the berths of the Golden Horn, the Bosphorus Strait and the Prince Islands. Their function is purely practical, meeting the demand primarily of local residents - to relieve heavy traffic during peak hours. Tourists are also widely offered trips along the Bosphorus and the Golden Horn on various pleasure boats and speedboats.
6. Rent a Car.
Car rentals are available at Istanbul airports and in the city itself. You can rent any transport you like, either on arrival or in advance. In the latter case, you will significantly save time, and you will have more choice. Keep in mind that Istanbul has heavy traffic and especially during rush hour there are serious traffic jams.
Learn more about car rentals.
7. Taxi Service.
Of course, taxi is the most convenient way to get around Istanbul, but it is not always faster due to traffic jams than, for example, by metro. Therefore, we do not recommend taking it for long distances on working days, especially during rush hour.
But if you need to get to the airport or leave from there, especially at night and with large suitcases, then a taxi has not yet come up with anything better. Learn more about transfers from Istanbul airports.
(taksi photo)
THINGS TO DO AND VISIT
Today, for a visiting European, Istanbul is more like a Muslim city: almost from any point with a good overview, you can see several mosques. Similarly, for a visiting Muslim from an Orthodox Islamic country, Istanbul will seem like a modern semi-Christian city. Not to mention a significant Jewish stratum.
Read also:
Cultural traditions are no less tightly intertwined here than religious trends. Modern European secular education, entertainment, theaters and night clubs coexist with a typically Asian, one might even say Arab way of life: daily schedules, regular prayers, and culinary traditions.
And of course, trade: Istanbul surpasses many European capitals in terms of its intensity. Huge flows of cargo and goods, the famousGrand Bazaar, entire districts where offices of trade and transport companies, shops, shops and stalls, private merchants, wholesale and retail are concentrated.
The entire infrastructure of Istanbul is well-suited for travel: the city has a huge number of buses, subways, modern trams and unobtrusive taxi drivers (but you need to keep an eye out for them). Many people understand English, and you can even meet Russian-speaking immigrants. Especially often the Russian language is responded to at markets and in large shopping centers.
The main reasons to go to Istanbul are shopping and exploring historical sites. And the city itself knows this, protecting and caring for cultural monuments and selling literally everything and everywhere.
If you happen to be in transit with a long transfer with Turkish Airlines in Istanbul, you can take advantage of a free city tour.
By the way, if you get tired of excursions, you can relax for a day on one of the beaches of Istanbul.
Attractions
Sightseeing is the main attraction for a trip to Istanbul. There are an incredible number of them here. Now we will only list the most important ones, and there is a corresponding article about each of them on our website.
By the way, in a separate article we have described the best travel guides to Istanbul that are on sale.
So, first of all in Istanbul, you should see the following attractions:
Blue mosque,
Hagia Sophia Museum (Hagia Sophia Cathedral),
Topkapi Palace,
Bosphorus Strait,
Dolmabahce Palace,
Grand Bazaar,
Egyptian Bazaar,
Sultanahmet district and square,
Galata tower,
Basilica Cistern,
Archaeological Museum,
Eminenyu embankment andGalata bridge,
Istiklal street and Taksim square,
Suleymaniye Mosque,
Chamlyc Mosque.
We also recommend visiting the observation deck on the Saphir skyscraper.
By the way, it is convenient to see the sights on a sightseeing bus.
Read also:
Places of interest,
Entertainment,
Shops and shopping.
Istanbul City Tours
In Istanbul, it is difficult to find group excursions, and even more so in Russian, since travel agencies are not at every turn, as in the South of Turkey. It's much easier to find a local guide or book a private tour online. You can search for individual and group tours on Tripster and Sputnik8 websites .
The advantages of individual excursions are obvious:
a small group (usually 2-4 people), and this is just your company, without strangers;
exclusive attention of the professional guide;
visiting non-tourist places;
ability to change the time or route;
tips for choosing cafes, restaurants, and simply connecting with locals.
There is also a disadvantage - this is the price that is higher than the cost of group tours. But the impressions of an individual tour are usually more vivid and memorable.
Here are the most interesting individual excursions in Istanbul:
1. All of Istanbul in 1 day.
This tour is suitable for those who are visiting Istanbul for the first time and who want to cover all the main sights of the city in 1 day. An eight-hour walking tour will allow you to visit Hagia Sophia, Sultanahmet mosque, Gulhane Park, underground reservoir, Grand Bazaar and many other historical sites. A short break during the tour is provided by a boat trip along the Bosphorus.
This tour is for tourists who love Hiking - you will have to walk around the city for about 12 kilometers. At the end of the trip, the guide will treat you to a Cup of real Turkish coffee and tell you where to buy Turkish sweets.
2. Asian Istanbul. All the most interesting things that you can't miss.
An unusual walking tour for 1-4 people in the Asian part of Istanbul. It is for those who want to see the standard Istanbul and see places that are not in the guidebook. On the way, the guide will offer you to taste real Turkish coffee and sweets.
3. Istanbul without a veil or how to get lost in the city.
A mischievous walk through the Asian and European part of the city will surprise you with immersion in the daily life of local residents. The guide will share up-to-date information about modern Istanbul and interesting historical facts. During the tour, tourists will enjoy a ferry ride across the Bosphorus, Turkish coffee on the roof of an old mansion and many other surprises.
4. Photo session in the historical center of Istanbul.
One-hour photo walk through the most beautiful historical places of the city. According to its results, the photographer provides all successful photos, twenty of which will be in the author's processing.
You can check the Istanbul daily city tours on Tripster
CLIMATE
The climate in Istanbul is somewhere between subtropical and continental. Summers are hot and dry, and winters are cool and rainy. The average temperature in January is +3..+9, July +25..+28. the Best time to travel is from April to September, because during this period the probability of precipitation is low,which means nothing can interfere with sightseeing. InIstanbul sometimes gets wet snow in winter, so this is not the best time to travel.
See also the weather in Istanbul by month.
ISTANBUL CITY TOURS
You can go to Istanbul not only on your own, but also on a package tour. Due to large sales volumes, the prices of the tour operator as a whole are lower than if you buy all parts of the tour separately.
What does a trip to Istanbul include?
Usually included in the tourist package:
Air tickets,
Hotel accommodation,
Transfer from the airport to the hotel and back,
Insurance.
Everything has already been taken care of for you, you don't need to buy anything separately.
Where to buy travel packages
First of all, travel packages to Istanbul can be purchased at travel agencies. Usually, employees there are well-versed in the current market situation. But, like all sellers, they are interested in selling certain tours, since tour operators can offer an increased Commission. That is, you should be alerted to the particularly active imposition of a particular hotel and tour operator.
If you know exactly what you want, know how to use the Internet and find truthful reviews, then you can independently book a tour to Istanbul on the website of the tour operator.
Read also: How to buy a last minute tour to Turkey on your own
It is even more profitable to do this on the Travelata and Level.Travel , Misto.Travel for Ukraine), because there you can compare the prices of all tour operators at once. Very simple and convenient sites, booking is possible in 5 minutes, unlike most sites of tour operators. An additional benefit is that there is a bonus system for repeat purchases, as well as promotional codes for discounts are offered from time to time.
HOTELS
There are several thousand hotels in Istanbul city. Apart from them, apartments and guesthouses are popular for rent. If desired, anyone will find a place to stay in accordance with their taste and wealth. The main thing is to choose the right area in Istanbul to stay as close as possible to interesting places for you. Our Istanbul city Guide always try to suggest budget friendly places.
Best places to stay in Istanbul
When choosing a place to stay, you should take into account the proximity to attractions (usually they come to the city for the sake of them). An excellent option in this case is the Sultanahmet district, located on the southern shore of the Golden horn Bay. Many people prefer to stay near the Blue mosque and Akbiyik street. Another good option is and Sirkeci & Eminonu area.
For those who enjoy nightlife and shopping, it is better to settle in the Beyoglu area-near Taksim square, Tepebaşi street. For business and modern young people in Besiktas.
Popular hotels in Istanbul:
Low-cost housing:
A popular time to visit Istanbul city is April-June and September-October, when it is not so hot, but there are still no winds with rain. During these periods, you should take care of housing in advance, at least a month in advance.
Especially note that if you want to save money, then during the Christmas holidays (Catholic Christmas) and New Year, you should book hotels 2-3 months before the trip. In our opinion, the largest selection of housing is presented at Booking service .
If you need an apartment, then use AirBnB.com or Vrbo.com
Sometimes it makes sense not to book a hotel separately, but to search for a package tour, for example, on the Travelata and  Level.Travel
USEFUL THINGS FOR YOUR TRIP TO ISTANBUL
Istanbul city Guide :
Istanbul city is one of the biggest metropolises in the whole world with its population. According to some important sources, it's actually more than 20 million.
It's the only city in the World that spreads over two continents. Istanbul city was the capital of 3 great empires before the foundation of the Republic of Turkey. Byzantium, Roman and Ottoman Empire.