Everything About Istanbulkart in 2023 – All the Answers. Prices, Where to Buy etc.
Istanbulkart Price 2023 - Total Guide to Istanbul Metro Pass in 2023
Istanbulkart is a time-saving, budget-friendly, must-have public transportation card of Istanbul. People who live and work in Istanbul will always have Istanbul card in their pockets. It's an easy-to-use contactless card.
In this post, you will get detailed and useful information about where to buy Istanbulkart (in the city or at the airports),  How to buy Istanbulkart by yourself? How to top-up Istanbul Card? What are Istanbul Card Prices? How to activate Istanbul kart? Does each person need Istanbulkart? How to check Istanbulkart balance? and much more.
Important Update: HES Code is. not required anymore in Turkey. You don't need to match your Istanbulkart with HES Code as well.
Where to Buy Istanbulkart ?
As every budget traveler or as someone who wants to explore deeper Istanbul and the culture, you certainly will want to travel by public transportation in Istanbul and you need an Istanbul Card for that.
In order to do that, you definitely need one Istanbulkart when you arrive at one of the Istanbul airports. There are no other options like paying cash or buying one pass tickets (except some routes).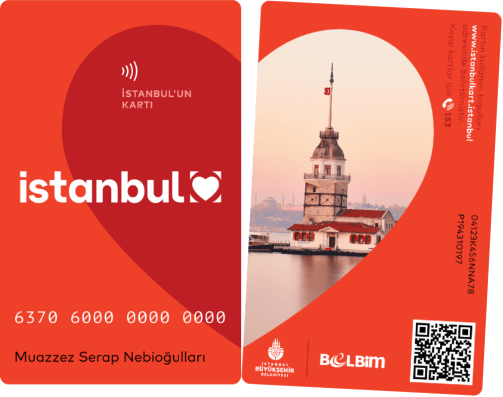 Where to Buy Istanbulkart at Istanbul Airport?
You can buy your Istanbul kart from one of the ticket machines so-called Biletmatik on the -2nd (minus second) floor of Istanbul Airport (it's also called the public transportation arrival floor) and you will see the istanbul card price list on the machines.
You can also buy it from the ticket offices of Havaist Airport Shuttle Bus Station which is located on the same floor.
Here how a biletmatik looks like;
Important notice!: Ataturk airport is no longer operating so please check our Istanbul new airport guide.
Where to Buy Istanbulkart at Sabiha Gokcen Airport?
You can find an Istanbul card ( Istanbul transfer card ) in the small kiosk across the street from the exit of the arrival terminal. You can also buy it from IETT's (Istanbul electric tramway and tunnel establishments) Supervision booth at the public bus station after you go out of the terminal if you will choose the public bus option to reach your destination.
Where to Buy It in the City Center?
You can find Istanbul kart Biletmatik almost at every metro, tram, Metrobus, and ferry station. Besides that, you can also buy at every kiosk or store that is located near the stations.
Look for the sign with "Istanbul Card" or "Akbil"! Previously it was called "Akbil" in Istanbul. Some shops still use Akbil signs on the kiosks.
Which Istanbulkart to Buy?
Istanbulkart Price changes according to the card you buy. There are 4 main Istanbulkart types to buy. You need to buy the one called Anonymous Istanbul kart which looks like this;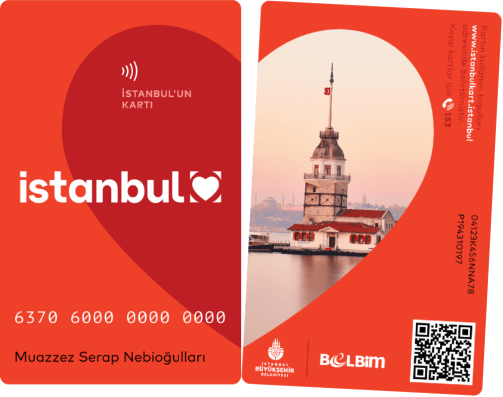 You can see other 3 types of Istanbul Card below which won't be sold to you unless you are studying in one of the Turkish Universities (student card/indirimli) or Turkish Citizen ( Monthly Card or abonnement / Mavi kart) or over 65 years old Turkish Citizen (Free Pass / ücretsiz).
What is the Price of Istanbulkart in  2023?
Istanbulkart costs 50 Turkish Liras. When you buy it from the Biletmatik, it requires 50 Liras.
Once you get your Istanbul kart from the machine (Biletmatik), you need to scan your Istanbulcard again but this time to top up money. It's a simple step. Scan your card, chose one of the language options, and insert a paper bill. That's it!
Let me remind you again that you should not top-up more than you need, since the refund process will be extremely difficult for you.
How to Activate Istanbulkart? (No longer Required, You can skip this part)
You need to match Istanbul Card with HES code for Istanbul Card activation. Istanbulkart activation or Istanbul card registration is an easy process. Previously, you could just buy one Istanbul card and start to use it directly.
But during the pandemic government decided to control the risks in Istanbul's public transportation and decided to do it with a system called HES. People can enter into closed areas in Istanbul only with a HES Code assigned by HES App.
It was difficult for station staff to check millions of people's HES Code on their phones before they get into the stations, so they decided to match the HES code with Istanbul cards. Istanbul card activation process started this way.
We explained it on our How to match HES Code with Istanbulkart post.
If you are already in Turkey, you can get yourself a New HES code by following the SMS method on How to get hes code for foreigners
If you plan to travel to Turkey, you need to fill the entry form. And the Entrance Form to Turkey will assign you a HES Code.
How to Check Istanbulkart Balance
You can check the balance of Istanbulkart on the kiosk machines at stations. There is a way to check Istanbulkart balance online. You need to download the Istanbulkart App in order to do that.
Where Can You Use Istanbulkart ?
You can use Istanbul card in every public transportation vehicle, bus, nostalgic tram ( in Taksim), Metrobus, tunnel, metro, tram, funicular, cable car, IDO ( ferry), City lines (ferry), Turyol (Bosphorus cruise), Dentur (Bosphorus cruise), TCDD ( railways) and HAVABUS Bus from Sabiha Gokcen Airport and most importantly in Havaist Bus from Istanbul New Airport.
You can check here for more detailed information about Havaist Shuttle Bus Schedules and Havaist Prices from Istanbul New Airport.
And you can also check for HAVABUS Buses from Sabiha Gokcen Airport.
Travel Fares
In the image below you can find the list of all Istanbulkart fares. As you can see, if you buy one pass ticket it costs 20 Liras and it's not easy to find it at every station. If you use Istanbulkart, it costs 9.90 TRL and you can have an additional discount if you interchange.
For example, If you need to use T1 Tram and then to F1 Funicular in order to go to Taksim Square, it will cost you 16.99 Turkish Liras instead of 40.
How Many People Can Use It? Does Everyone Need to Buy?
Istanbulkart can be used by up to 5 people. But keep that in mind that only the first person will travel discounted in case of interchanging to other transportation units.
Can I Return It and Get a Refund?
When you buy Istanbulkart you will be paying 50 TRL which is not refundable.
But if you still have some balance left on the card, you can get a refund but it's a very long process. You need to fill the istanbulkart refund form on their website or you need to go to one of the main offices of IETT and wait until they complete the necessary inspection (that's how their website says).
They will ask for your IBAN number and refund you in 5 working days.
For that reason, I recommend you to top-up a small amount each time and pass it or sell it to the next traveler that you met in the hotel. Or reception does it for you. Or you just take it home with you. Istanbulkart expires in 3 years unless you top-up. You can check Municipality's website for more information about Istanbul kart refund.
Is There a Monthly Pass?
Yes, there is a monthly pass and it's called Mavikart ( Blue card ) but as we informed you previously, that's a personalized card (they ask for some documents and registration papers) and it's for Turkish citizens or residents.
One Pass Tickets
Here are the prices of the OnePass and other Pass options;
One Pass (Also called BİRgeç): 20 Liras  - Two Pass : 30 Liras - Three Pass: 50 Liras - Five Pass:  60 Liras - Ten Pass:  110 Liras
Istanbulkart Price for Children
Children under 6 years old don't need to buy Istanbulkart. All the children under 6 years old (6 included) are free to travel in all public transportation vehicles in Istanbul. Children above this age should get Istanbulkart for students for transportation.
Istanbulkart App
There is an app which is called istanbulkart App and it belongs to the municipality. You can download the app and top-up by using credit cards. In order to that, you need a mobile phone that is NFC enabled.
However, I wouldn't really recommend this application since it's working only with the credit cards of Turkish Banks (according to the information on their website) and there are hundreds of people who are having difficulties with the application.
If the municipality improves the application, we will definitely share the information.
Hopefully, this information will be useful for the travelers who will visit Istanbul & Turkey soon.