Sabiha Gokcen Airport to Taksim – Best Transportation Guide of 2021
In this post we will inform you about how to go from Sabiha Gokcen Airport to Taksim in different ways and you will see detailed explanation about the most common ones, from private to public transportation, from expensive to cheap.
If your need to go from Sabiha gokcen airport to Sultanahmet, check on How to Go from Sabiha Gokcen Airport to Sultanahmet to get detailed information about it.
Sabiha Gokcen Airport to Taksim
Havabus / Havatas Bus
Havabus is a bus company that operates only at the Sabiha Gokcen Airport in Istanbul. The company was known as Havatas before.
This is the most convenient way to go from Sabiha Gokcen airport to Taksim. It's comfortable, affordable and provides free wifi . Price is 18 TRL per person .
Check the Havabus Taksim Schedule below or go to their website www.havabus.com
Important notes:
Be informed that Havabus service stops at 01:00 am and starts to operate again at 03:30 am. Keep that in mind if your plane arrives after 01:00 am.
Be cautious about the taxi drivers when you arrive at Taksim square. Make sure you fix the price or use the Tram and Metro.
Sabiha Gokcen shared shuttle is also one of the budget friendly options comparing to private services. Shuttle fees are around 15 euros per person and it will help you to go from Sabiha Gokcen airport to Taksim (until your hotel door) with less hassle.
Important notes:
Always check the timetable and your flight departure time on your return to the Sabiha Gökçen Airport! Shuttle buses pick up many people from several different locations. And not everybody is punctual as you are. Arrange your shuttle for minimum 4 hours before the departure of your flight.
It can be a long journey if you travel during rush hours. Consider packing some snacks and bottled water in your bag.
If you are more than 3 people, it's no use to pay for shared shuttle. You can arrange a private minivan directly to your hotel for about 35 - 40 euros in total.
If you arrive at midnight, they might keep you waited until there is enough passenger in the shuttle.
Sabiha Gokcen Airport Taxi Service
Taxi service is one of the easiest way to go from International Airport Sabiha Gokcen to Taksim center . There is 24 hour taxi available, especially at the international arrivals.
It costs around 150 Turkish Liras . Check the image below to see how much it approximately costs and how long does it take. Shortest route is the Avrasya Tunnel passage and it costs additional 36 Liras .
Drivers may use the other paid highway and bridges depends on the traffic. So Add around 10 to 20 TRL on the bill for bridge toll . And add another 10 to 20 liras if there is traffic. So it usually costs 200 -220 Turkish Liras.
Important notes :
Always get one of the airport taxis on the queue. Havalimani Taksi is written on the doors. Do not take any other taxi passing by, you might think that they are cheaper but it can cost you twice or triple time, if they scam.
No matter which taxi you get, always write the plate number somewhere in case you forget your belongings in it.
Do not use 50 TRL bills for the payment. It looks a lot like 5 TRL bills. We are not saying that all the drivers are bad but some drivers can change it with fast hand trick and tell that you gave them 5 TRL, not 50, and ask for more money.
Sabiha Gokcen Airport Metro
Sabiha Gokcen airport metro line connection will be completed in the end of 2020, according to authorities. It will be much more effortless for travelers to reach at Taksim Square . But until then here is how you should do, if you prefer to travel by public transportation.
Find the public bus station after you go out of the terminal. Its on the right side. E-10 bus line passes from the closest metro station. Get in to M4 Kartal-Kadikoy metro and go until Ayrilikcesme station. That's where you will make interchange to Marmaray in order to cross the Bosphorus. You need to go out in Yenikapi and make another interchange to M2 Taksim metro. 3rd station will be yours.
This way might be tiring if you have many bags, and it will take very long time. So you might want to consider the HAVABUS Bus option again.
You definitely need a public transportation card which is called Istanbulkart to use public transportation in Istanbul. You can check our Istanbulkart guide for more information about where to find one and how to top-up.
Important notes :
Don't forget to buy Istanbulkart if you want to use the public transportation
It will be a long and tiring journey, especially if you have heavy bags.
Metro is not available after 12 midnight.
We hope it will be helpful for you during your travel to Istanbul, If you chose Sabiha Gokcen Airport as your arrival point.  There are many options and ways to go from Sabiha Gokcen airport to Taksim. It's not that difficult and long as you think.
Pay attention to the warnings and advices of your local guides , then you will make the best out of this enchanting city.
Sabiha Gokcen Airport Private Transfer
Another convenient way is to arrange a private transfer from Sabiha Gokcen airport to Taksim area.
There are many companies and usually, it costs around 35 - 40 euros up to 4-6 people. The welcoming person will hold your name on a signboard.
Private transfer companies use minivans or minibuses mostly. That's really good if you have many bags. They know the address of every single hotels in Istanbul. Or they can at least call the reception and find out about the address.
We recommend the international transfer companies such as kiwitaxi.com. You can check and compare the prices by clicking here or on the banner at the right side of the website.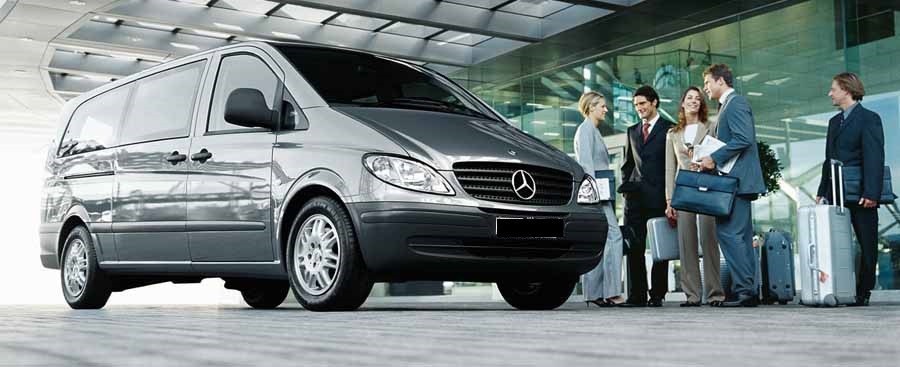 Important notes :
Get the number of the company in case you can't meet the welcomer or the driver before you .
Do not hesitate to ask to other welcomers in case you can't find yours. They all know each other. Just tell the company name.
Have small notes if you need to pay to the driver directly. They don't have change all the time.
Have the hotel's or apart's phone number in your phone or show your reservation form, in case driver doesn't know the address.